Lizbeth Crochet Thread is a brand of thread, made by the Handy Hands company primarily for tatting.
Brief History
The Handy Hands company was founded by Barbara Foster and her family in 1989 after she published a series of books on tatting. The company was incorporated in 1995 and the Lizbeth line of threads was released in 2008.  
Products
There are 5 distinct products offered under the Lizbeth's Brand name:
Lizbeth
Lizbeth Metallic
Elisa Threads
DMC
Olympus Size 49
As for the Lizbeth line they have 5 sizes:
| | | | | |
| --- | --- | --- | --- | --- |
| Image | Product Name | Size | No of Colors | Yardage |
| | Lizbeth | 3 | 105 | 120 |
| | Lizbeth | 10 | 216 | 122 |
| | Lizbeth Twirlz | 10 | 216 | 122 |
| | Lizbeth | 20 | 216 | 210 |
| | Lizbeth Twirlz | 20 | 20 | 210 |
| | Lizbeth | 40 | 206 | 300 |
| | Lizbeth | 80 | 206 | 184 |
Review
For our review we will focus on the size 10 and size 20 as these are the most popular sizes.
Lizbeth is made from 100% Mercerized Egyptian cotton and is manufactured in China.
Lizbeth crochet thread is a high quality mercerized crochet thread. They are widely distributed so you can get them at very reasonable, often highly discounted prices, both locally and online. The color quality is excellent.
They are machine washable in warm water, no bleach, and block well.
One of the best features of the Lizbeth line is the variety of colors to choose from. As you can see from the chart above most of the thread lines have over well over 100 different shades for you to choose from. The means that the possibilities are endless.
Lizbeth has one of the largest selections of both solid and variegated colors available. For example, Aunt Lydia's popular Classic Size 10 has 52 colors, Lizbeth Size 10 has 216 colors.
The only real downside to Lizbeth threads is the yardage. Designed primarily for tatting, which creates small, intricate designs, the balls are relatively small.
For more information on tatting, see our tatting blog post here.
Below is a comparison chart that shows the relative size of the threads we carry. Also we did for our blog post on physical size of the threads we carry here.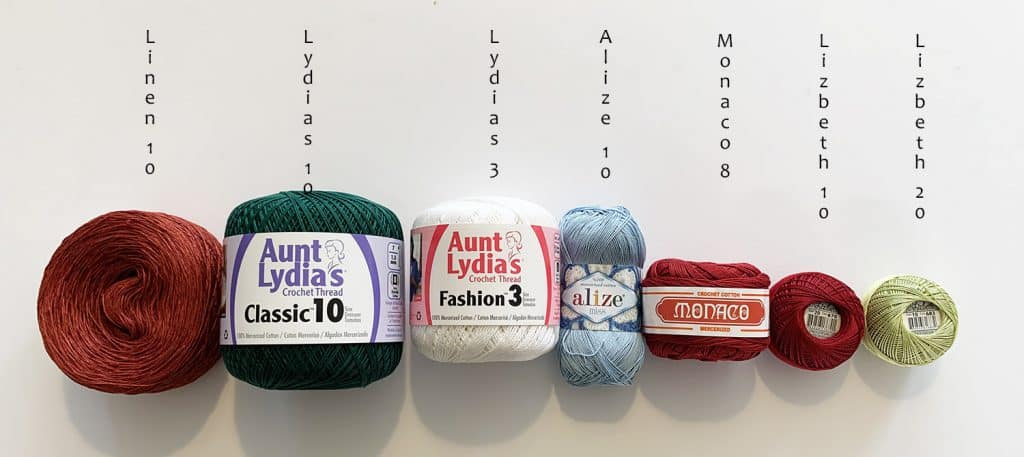 So ,just be aware of the size difference and plan accordingly.
Conclusion
Lizbeth is a high quality mercerized crochet thread that comes in a wide variety of colors. The thread are easy to work with and yield exception results. The only downside to Lizbeth is the limited yardage, though, this is by design. Be sure to check the yardage requirements of your projects and plan accordingly.
---
At Lyn's Crafts we decided to focus on the size 20 threads. You can shop our selection and take advantage of our every day low prices.